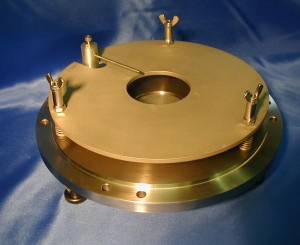 Cathodic Arc Plasma Deposition provides superior coating qualities for many applications.
These coatings are typically deposited for their hardness and wear resistance. Decorative and corrosion-resistant coatings are also of wide usage. A variety of coating materials are available to suit applications. Coatings may be applied over a wide temperature range. Deposited at a wide range of energy levels. Used with a broad range of substrate materials.
TYPICAL COATING APPLICATIONS
High Speed Steel & Carbide Cutting & Forming Tools

Drills, End Mills – Draw Rings & Dies

Form Punches & Rolls

Pierce Punches – Blanking Steels

Trim Steels – Shear Blades

Cut-off Blades
Medical Instruments & Medical Implants

Decorative – Faucets, Showerheads, Doors – Knobs, Plates & Bezels, other plumbing and building hardware

Lighting – Reflectors

Radio Frequency (RF) & Electromagnetic (EM) interference – Cell phone & CRT/LCD housing
TYPICAL COATING MATERIALS
Nitrides – TiN, (TiAl)N, CrN, TaN, (TiZr)N, HfN

Carbides – TiC, TaC, WC, ZrC, HfC

Metals – Al, Cr, Cu, Hf, Ni, Ta, Ti, Zr

Oxides – Al2O3, CuO, TiO2, ZrO2

Alloys – Inconel, NiChrome, Stainless Steel, Super Alloys, Titanium Alloys
Carbonitrides – TaCN, TiCN, (Ti-Zr)CN

Diamond-like Coatings – DLC

Multi-Layer Coatings – Infinite combinations
ORDERING INFORMATION
IVI 5710-0250-0000 Cathodic Arc Source on 10 1/2-inch mounting flange
IVI 8971-0050-00V1 – Cathodic Arc Power Supply – With Remote Control Capability
UTILITIES REQUIRED
1 SCFM air @ 80 psi or industrial grade nitrogen

Reactive controlled atmospheres (gases) for process

Vacuum chamber – 30 millitorr or less- to suit process
Water – 10 GPM, 70o F, 20-25 psig

208 or 460vAC
We look forward to being of service.


265 Oak Street
Pembroke, MA, USA 02359
TEL:  781-826-3195
FAX: 781-826-1195
EMAIL: sales@ivicorp.com
IN OUR FIFTH DECADE OF SERVICE